About M M MARKETING
Established in the year 2004, We, " M M MARKETING", are Authorised Dealers For Chemical Process Pump , Accessories & Spares . Manufactured by reputed and proven manufacturers.
Our manufactures infrastructure is well-equipped with high-tech machining & designing facilities, which helps us in carrying out our range as per the clients' requirements. We are also backed by a diligent team of professionals, which has complete knowledge about the technical & functional aspects of their products.
Apart above , M M MARKETING is involve in manufacturing process & Channel Partner with M/s. Parmeshwar Engineering works Located at Thane. Where we manufacture Metallic Centrifugal pump in MOC- CI., CS , SS316 , higher alloys & Various types of Pumps spares.
Our Moto of the company - To serve the customer Best Quality & Service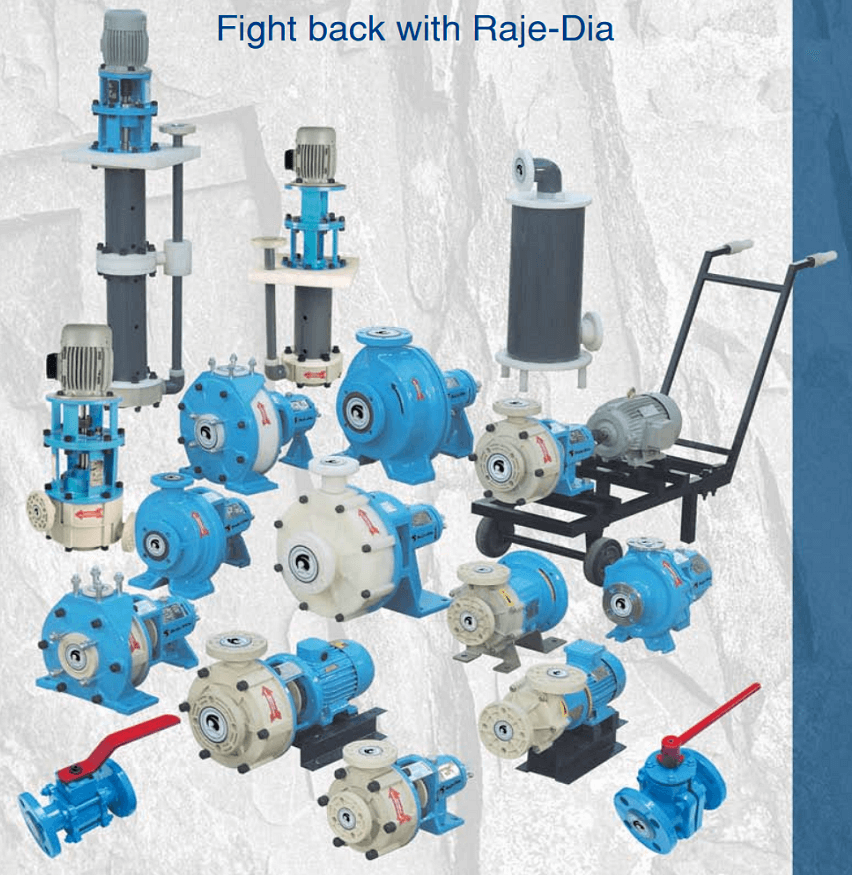 We are authorized Dealers for the following Proven Manufactures:-
* Leak Proof Pumps ( I ) Pvt Ltd. ( Formally Known as Rajedia Pumps ) - Which manufacture Polypropylene / SS316 Centrifugal Pump & pioneer for PVDF/FEP/PFA (Teflon ) Lined Centrifugal Pumps.
*Price Pumps Pvt Ltd. Located at Valsad ( Gujarat ) are establish brand for the Air Operated Diaphragm Pump. Supply in PP/PVDF/SS316 / Alluminium. From Size -- 15 mm to 80 mm.
*Diaflow Pumps & Filters Pvt Ltd. — Manufacture pumps accessories & GFPP Filter Systems. Also manufacture PP/SS/PTFE Barrel Pump with Air Drive & Electric Drive. Mainly used for Solvents.
*Superproof Seals Engineering Pvt Ltd. Manufactures all types of Mech seals For Pump & Agitator .
*CM Pumps & Systems Pvt Ltd. Manufacture Sealless Magnetic Drive Chemical Process Pump.
*Parth Polyvalves Pvt Ltd. – Complete Plastic PP/HDPE Piping System.
*Aerochem Piping Systems Pvt Ltd. –Leader manufacture of PP & HDPE Pipes as per IS :4984-1995
*Pranjal Polymers. Manufactures all types of flange Guards, Safety guards, Spray Guards & Protection Cover , Earthing Jumper for Chemicals , Pharmaceuticals & Petrochemicals Industries. Products are designed from UV Resistant and durable Raw Material Like PTFE, HDPE ,PP ,SS304 ,SS316 , PVC.
*Emkay Industries – Proven manufacture for Plastic Line Fasteners , Hand Operated PP Barrel Pump & Tailor-made GFPP Line Stirrer /Agitator to suit customer Requirements & design.
We are also dealing in Metering Pump , Gear Pumps , Kirlosakar Brother make water & industrial Pumps/Spares , fire fighting Pump system., Crompton Make Industrial Motors.